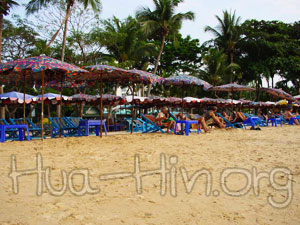 Cha-am Beach The longest beach in the Phetchaburi seashore, apart from its length, is regarded as the most beautiful in Phetchaburi.
Cha-am BeachLocation: Ruamchit Road, Cha-am District
How to get there: From the town, take the Highway 4 (Phetchakasem Road) passing Phranakhon Khiri, Tha Yang District and turn left at the elevated road in Hup Kraphong, about 40 km further there is a left turn into the beach for about 2km.
From Bangkok, either the bus service in Bangkok - Cha-am route or the train service to Cha-am Station is equally convenient.
Attractions: Cha-am possesses the longest beach in Phetchaburi, with the length of about 23 km and with the road by the beach of 7 km long. The beach is a resort town in a lively setting like that of Hua Hin which is further next. The water is not deep, ideal for a swim, with water activities to enjoy all day long, especially the horse riding-which is the identity and charm of Cha-am. Apart from Thai visitors, a lot of foreigners like to come for relaxation.
At the north end of the beach is located a fish-landing pier, ideal for scenery viewing and seafood tasting at reasonable prices
Facilities: Along the beach line, water activities such as beach chairs; rubber floats, banana boats, bicycles are available for hire. Restaurants as well as accommodations at different prices are plenty.