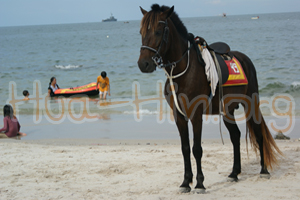 Hua Hin Beach Another familiar sight among tourists is horse riding to admire the scenery by the beach in Thailand available only at Phetchaburi Cha-am Beach and Prachuab Khiri Khan Hua Hin Beach which connect each other.
Hua Hin Beach The white sand and clear sea are only basic factors of its top popularity. Hua Hin has still maintained its incomparably classic story of being an old resort town. Even today, Hua Hin Beach is still preserved to be as much as it used to be with no interference of water sports.
Hua Hin Beach
Location: Hua Hin Sub-district, Hua Hin District, about 190 km away from Bangkok, and about 90 km to go to the Prachuab Khiri Khan Town.
How to get there: Take the Highway 4 Cha-am into Hua Hin District. At km market. 232, there is a road on the left onto Damnoenkaseam Road leadng to the beach. If coming by train, get off at Hua Hin Station.
Attractions: White and clean with nice sea water the beach is so beautiful that it was named "Queen of Tranquility". Thai people are very familiar with Hua Hin. When thinking about the sea, Hua Hin will be mentioned among the first ranks in the list, as it has been popular for a long time. Moreover, Hua Hin Beach responds to the need of people of all ages and sexes with the beauty of its beach, tranquility comfortable accommodations, convenient traveling by car, train and plane. Golf trip can be easily made within a day. The charm of Hua Hin includes the peaceful sea without water sports-to keep the setting of a resort town as it used to be. Not so far away from the beach is Hua Hin Station the most beautiful train station in this country. In the old days, Bangkokians usually came for an air at Hua Hin by this southern train.
Facilities: Bicycles for hire to admire the svenery by the beach hores rides rubbers floats beach chairs and a number of seafood restaurants. Accommodations are plenty ranging from cheap guesthouses to five-star hotels with panoramic views.